What we do
The Calgary Police Service is committed to working with the community to maintain this city as a safe place to live, work and visit. This is achieved through front-line policing and specialized investigations, along with the necessary organizational support. We use comprehensive community policing strategies focused on education, prevention, intervention and enforcement.
Mission: To maximize public safety in Calgary.
Vision: Working together for a safe community.
Summary of services we deliver
We deliver our services through the following business units:
We respond to both 911 and non-emergency calls from the public. We enforce traffic laws and safety, and provide educational programs for crime prevention and early intervention, as well as air, canine and other forms of support to front-line officers.
We focus on organized crime activities (e.g. fraud, identity theft, online crime, drugs, auto-theft, commercial crime and gang activity). We investigate major crimes (e.g. homicide, robberies, child abuse and sex crimes), co-ordinate with other agencies for joint-force operations (e.g. RCMP, other provincial agencies), and perform crime scene investigation and forensic services.
We manage human resources, training and career development, health and wellness services for Calgary Police Service employees. We initiate and provide information and technology support, and maintain police records, report taking and other administrative duties. We also manage police related fleet, buildings and vehicles.
We operate the Real Time Operations Centre (RTOC) that provides real-time analytical and investigative support to front-line officers. The RTOC can co-ordinate and reallocate police resources as necessary. We provide strategic planning and policy development, financial support for the organization and counselling for all our members. We investigate complaints against police officers and other employees. We analyze crime and provide legal review and advice. We process Freedom of Information and Protection of Privacy (FOIP) requests, undertake internal audits, and provide internal and external communication support services such as media relations and public affairs.
Net operating budget
The graph below illustrates the net operating budget (in $ millions) based on tax-supported amounts in 2011 and 2012. Budgets for 2013 and 2014 will be reviewed as part of the annual adjustment process.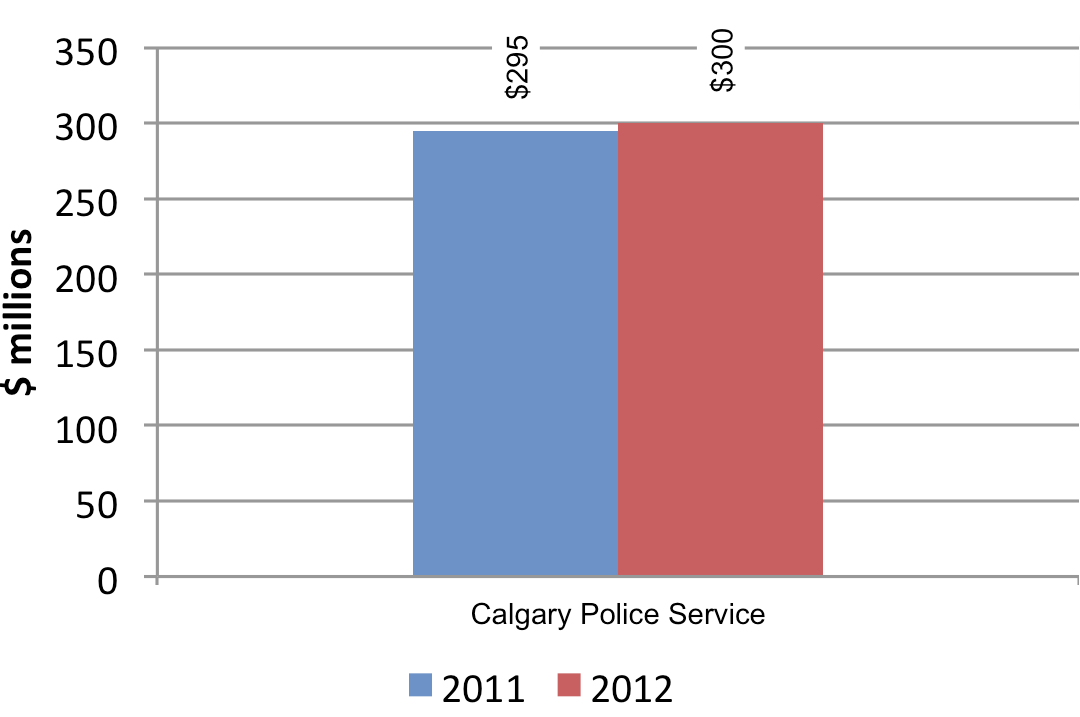 2012–2014 Highlights
Below are some of the actions we are taking to deliver key services in the 2012 to 2014 period. More information is available in our 2012–2014 business plans and budgets.
Maintain current staffing levels relative to population growth by recruiting and retaining people to support service delivery.
Enhance communication with citizens to link community needs to police response.
Continue to spearhead community-based initiatives to address issues such as elder abuse, at-risk children and youth, gang violence, child abuse, homelessness, addictions and domestic violence.
Continue to involve community partners in ongoing Service and district-level crime management strategies.
Continue recruiting initiatives to attract members of all Calgary's diverse communities.
Improving how we deliver services
The approved 2012–2014 operating budget calls for more efficient ways to deliver services. Over this three-year period, we will strive for the following productivity gains and efficiencies:
Modifying the front-line deployment model while maintaining officer visibility and coverage on the street.
Consolidating operations to achieve efficiencies.
Incorporating citizens' input
Examples of how we incorporate citizens' input in the services we provide include:
Continuing to develop strategies with partners around education, early intervention, treatment and enforcement.
Ensuring citizen input received by Community Liaison, School Resources and Diversity Resources officers is incorporated into the crime management strategy priorities.
Building trust by encouraging personal contact and dialogue with people from diverse communities.
Enhancing the Service's digital presence to improve the quality of communication and interaction with the public and CPS employees.