What is a Capital Budget?
A capital budget funds city assets with a life of greater than one year. Therefore, the City develops its capital investment plan in five-year cycles. This ensures appropriate planning for required projects and their related funding to demonstrate the complete impact of major, multi-year projects. Capital budgets are approved by Council as part of the three-year business planning and budgeting cycle.
Use of capital budgets
Land acquisitions, construction of buildings and infrastructure (i.e. roads, recreation centres, libraries, etc.).
Procurement of items used for one-time costs, with life expectancy of more than one year (i.e. equipment, vehicles, structures, systems, etc.).
Largely funded through government grants, debt and reserves.
In most cases, money cannot be transferred between capital and operating budgets because of funding restrictions.
Capital budget expenditures
The City's 2012–2016 capital plan totals $5.7 billion. The tax-supported portion is $4.4 billion and the Utilities portion is $1.3 billion. Major types of capital projects identified in this capital plan include:
Transportation ($1.7 billion)
Community Services & Protective Services ($711 million — $492 million for Parks and Recreation and $219 million for protective services).
Environmental Protection ($348 million)
Corporate Services ($1.1 billion — $277 million for Corporate Properties & Buildings, $201 million for Fleet Services, $494 million for Office of Land Servicing & Housing, $128 million for Information Technology and $49 million for other business units).
What sources of funding does The City have to finance capital infrastructure?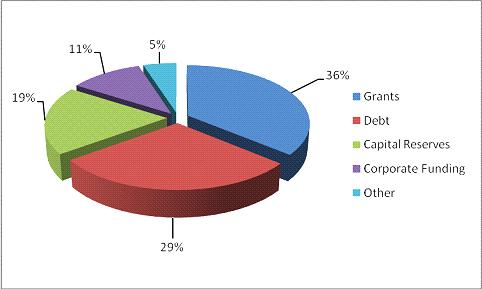 2012–2016 Capital Spending Plan
Total: $5.7 billion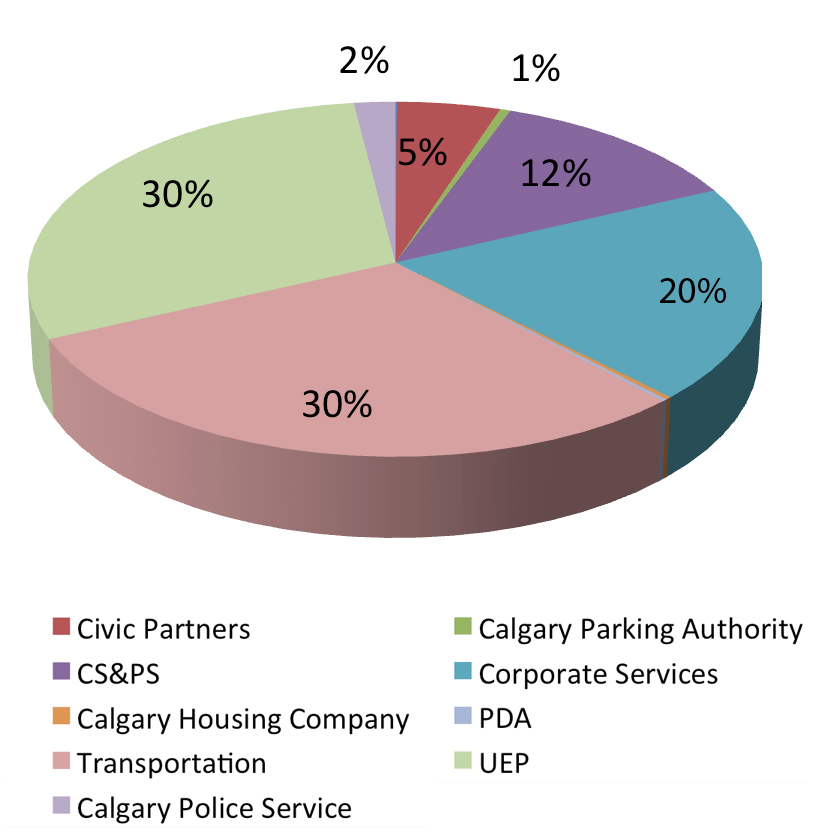 The capital plan includes a mix of new, maintenance and upgrade projects. It acknowledges that the needs for new infrastructure must be balanced against The City's obligations for existing infrastructure in older communities. Visit calgaryinfrastructure.ca for more information.