Of The City's total revenue sources for the operating budget, property taxes account for approximately 41 per cent. Residential property taxes account for about 21 per cent of The City's operational funding. Other revenue sources may vary depending on usage and external circumstances such as market fluctuations and third-party conditions.
Balancing revenues and expenditures
Unlike other levels of government, The City must balance its budget each year. The City's revenue structure poses several key challenges:
Most revenue sources are either frozen or stagnant – Unlike expenditures, most revenue sources do not increase with inflation.
Higher rate of inflation – The cost of City expenditures typically increases at a higher rate than goods and services considered in consumer or household inflation.
Revenues are not keeping up with costs of inflation and growth.
Property taxes are the only source of revenue that can be directly affected to balance increases in expenditures. This means that the property tax portion of revenues has to increase at a higher rate to balance inflation and other cost increases. For example, a two per cent increase in expenditures requires a property tax rate increase of approximately five per cent to balance the budget.
Revenues & Expenditures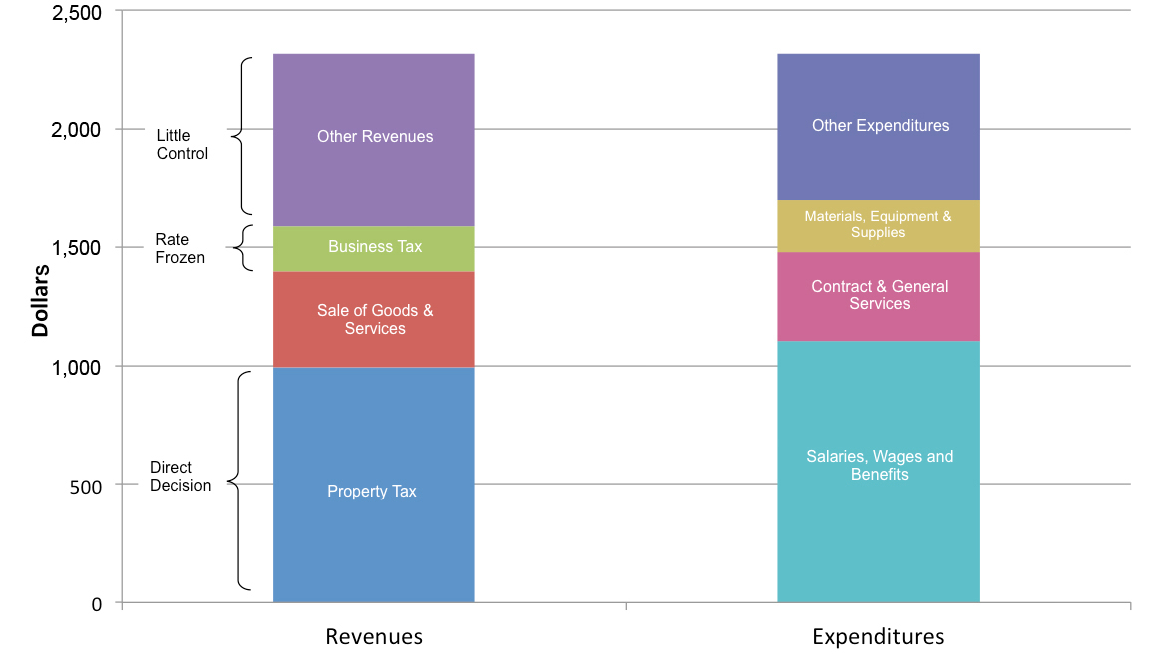 Operating Budget
The City of Calgary Operating Budget is:
Used for costs that recur year after year
Primarily paid to staff who deliver City services
Covers the costs of delivering services – operation and maintenance of facility, infrastructure, equipment, systems, vehicles, etc.
Largely funded by property taxes and user fees
Utilities services (clean drinking water, wastewater treatment and disposal) are fully supported by user fees
In most cases, money cannot be transferred between capital and operating budgets because of funding restrictions.
Operating budget expenditures
Approximately 75 per cent of The City's operating budget is allocated to departments and civic partners that provide services directly to the public. The remaining 25 per cent of the operating budget is allocated to departments and expenditures that govern, enable or support service delivery. These include Corporate Services, Corporate Administration, Council, corporate programs and capital financing.
Funding the Operating Budget, 2012–2014