What we do
We work to improve the quality of life for all Calgarians. We have a wide array of services delivered with a large network of partners. Our services include firefighting, emergency response, and prevention programs to keep citizens safe. We provide parks and playfields, recreational programs and facilities, and arts and cultural opportunities that make our city attractive with enjoyable leisure time activities. We look after our most vulnerable citizens by offering assistance for those most in need. Our city is clean and strong through programs such as graffiti removal and support to community groups. Lost pets are returned home through our licensing program. These services, and a whole host of other activities reflect the values of our citizens and help create the communities that Calgarians want to live in.
Summary of services we deliver
We deliver our services through the following business units:
We encourage a safe, healthy and vibrant community for people and pets through the development and implementation of bylaws that promote public safety and community values.
We strengthen neighbourhoods. We provide social services like children and youth services, seniors' services and family and community support services.
We are made of more than 1,400 men and women dedicated to the health, safety and vitality of Calgarians. We deliver an integrated program of emergency fire and medical response, prevention, and compliance with fire and safety codes.
We work to create and sustain a vibrant, healthy, safe and caring community through parks and open space.
We are the first point of contact for people seeking emergency assistance. We are Calgary's lifeline in emergencies.
We are the cornerstone of healthy individuals, and vibrant and complete communities. Together with partners across the city we provide a range of recreation, sport, arts and cultural programs, services and facilities to meet the recreation needs of all Calgarians.
2012–2014 Highlights
Below are some of the actions we are taking to deliver key services in the 2012 to 2014 period. More information is available in our 2012–2014 business plans and budgets.
Continued commitment to safe, sustainable and vibrant neighbourhoods through expanded investment in community facility repairs, an increased number of amenities and spaces that encourage human interaction, and upgrades to personal protective equipment for emergency responders.
Expanded investment in preventive community interventions via additional support for Family and Community Support Services and crime prevention strategies, supporting vulnerable populations in our neighbourhoods in collaboration with the non-profit sector.
Enhanced commitment to the Calgary Fire Department through the opening of two new emergency response stations, ensuring continued high levels of Fire safety coverage in our city.
Improved access to online services and other digital/ social media strategies in response to citizen needs and expectations.
Ongoing streamlining of current practices to further increase efficiency and accountability through core service reviews and outcome reporting.
Net operating budgets
The graph below illustrates the net operating budget (in $ millions) based on tax-supported amounts for each business unit in 2011 and 2012. Budgets for 2013 and 2014 will be reviewed as part of the annual adjustment process.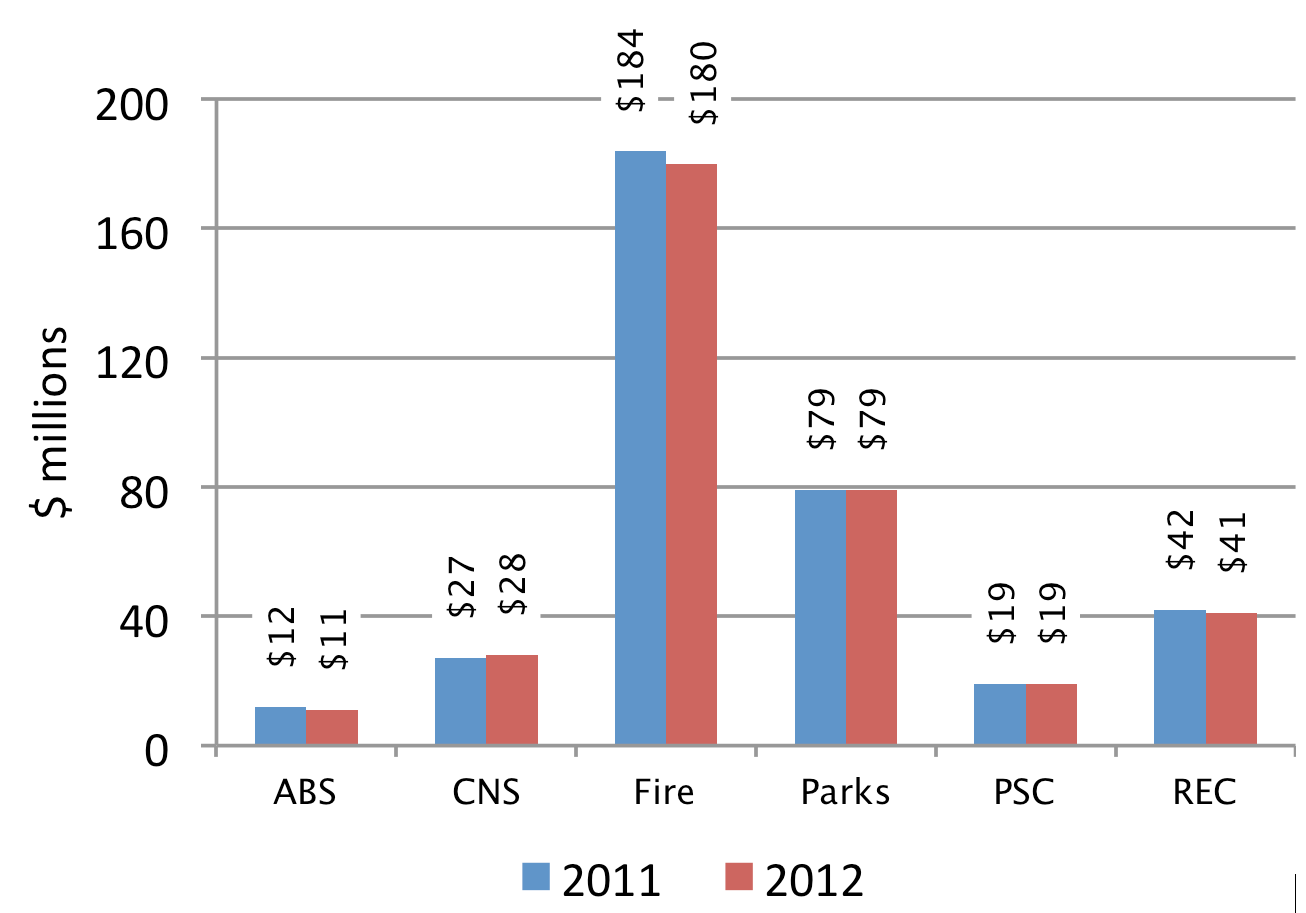 Improving how we deliver services
The approved 2012–2014 operating budget calls for more efficient ways to deliver services. Over this three-year period, Community Services & Protective Services will achieve $10.7 million in productivity gains and efficiencies including:
$5.4 million from reorganizing and consolidating operational structure.
$800,000 from changes in fleet.
$900,000 in utility savings from facility upgrades.
$2.3 million in reduced administration costs (e.g. materials, supplies, training, business expenses).
$1.3 million through miscellaneous productivity gains and contract agreements.
Incorporating citizens' input
Examples of how we incorporate citizens' input in the services we provide include:
Working with Transportation to improve pathway maintenance, safety, connectivity and snow clearing.
Using capital funds to repair and maintain existing recreational facilities, and finding alternative funding to build new facilities.