The Our City. Our Budget. Our Future. engagement process represents the first time the public has been asked to provide extensive input on The City's multi-year business plans and budgets. More than 23,000 participants provided their input from February to May 2011.
The engagement results identified two key findings:

1) Citizens value City services and do not want to see reductions in service.
2) Citizens do not want status quo — they want The City to focus on service priorities and deliver services in a more efficient way.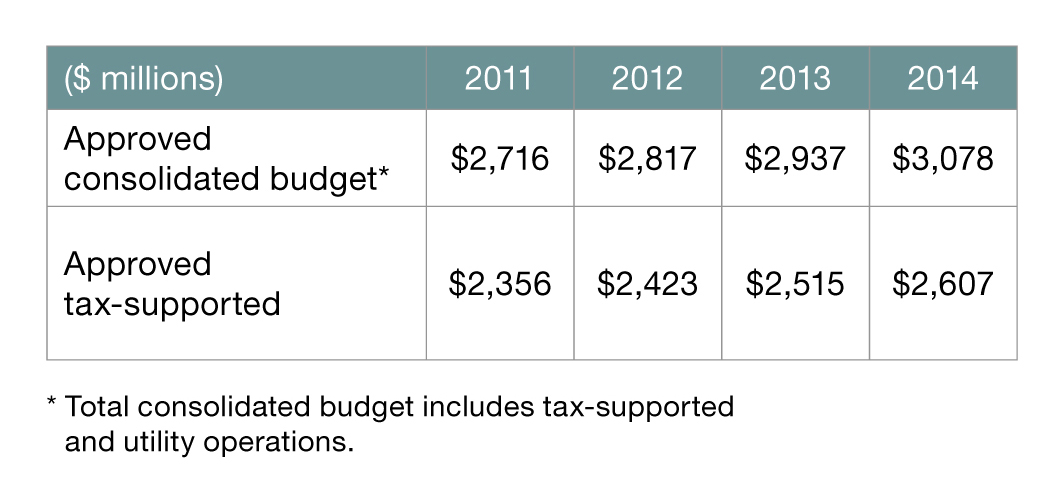 The 2012–2014 period marks the third consecutive multi-year planning and budgeting cycle where Administration has closed a multi-million dollar gap in its operating budget.

Council's decision on indicative tax rates based on municipal inflation and population growth called for Administration to close a $108 million gap in The City's operating budget over three years.
Administration successfully identified $45 million in savings through more efficient ways of delivering quality services. The remaining $63 million needed to fund expected growth and inflation was addressed through operational reductions and Council's decision on the municipal tax rates.
Service Highlights
The opening of new emergency response stations in Douglas Glen and Seton to maintain Calgary's standards for fire safety and coverage.
Social and community programs and initiatives for low-income seniors, families and at-risk youths to be delivered at the current level of service.
Enhanced snow clearing on priority routes (roadways that carry more than 5,000 vehicles a day) and establishment of a new reserve to augment residential snow clearing in heavy snow years.
Operation of the new West LRT line, optimization of transit service by matching frequency with demand, and using community shuttles on less-travelled routes.
Additional bike lanes and enhancements to cycling infrastructure based on implementation of the Cycling Strategy.