What we do
From Dirt to Dollars, Vision to Value, we fulfill Calgary's vision for a great city by stewarding the creation, redevelopment and valuation of vibrant, sustainable communities. This means we develop plans, policies and services that support land development, use, and growth management. We also assess all city properties and businesses.
Summary of services we deliver
We deliver our services through the following business units:
We work with communities and citizens through community planning committees and engagement process to determine what people want short and long term for their communities and the city. We develop plans and policies to guide development in new areas and redevelopment in established communities. We identify, protect and manage places of historical significance. We monitor and forecast changes in Calgary's population and jobs to determine what the current and future needs will be for services.
We take Council's priorities and policies into appropriate recommendations for land use, development and new community design. We provide the link between what is decided at Council and how it is implemented with builders and designers. We help you get the permits and licences you need. We work on Development Permits for new construction or changing the use of your building, and issue Building Permits and conduct inspections for changes or additions to electrical, mechanical, plumbing and gas in buildings. We also issue Business Licences and conduct business inspections.
We annually prepare, communicate and defend property and business assessments using the market value standard for property, and typical net annual rental value for business. The assessed values are used as a basis for determining property and business taxes.
Net operating budgets
The graph below illustrates the net operating budget (in $ millions) based on tax-supported amounts for each business unit in 2011 and 2012. Budgets for 2013 and 2014 will be reviewed as part of the annual adjustment process.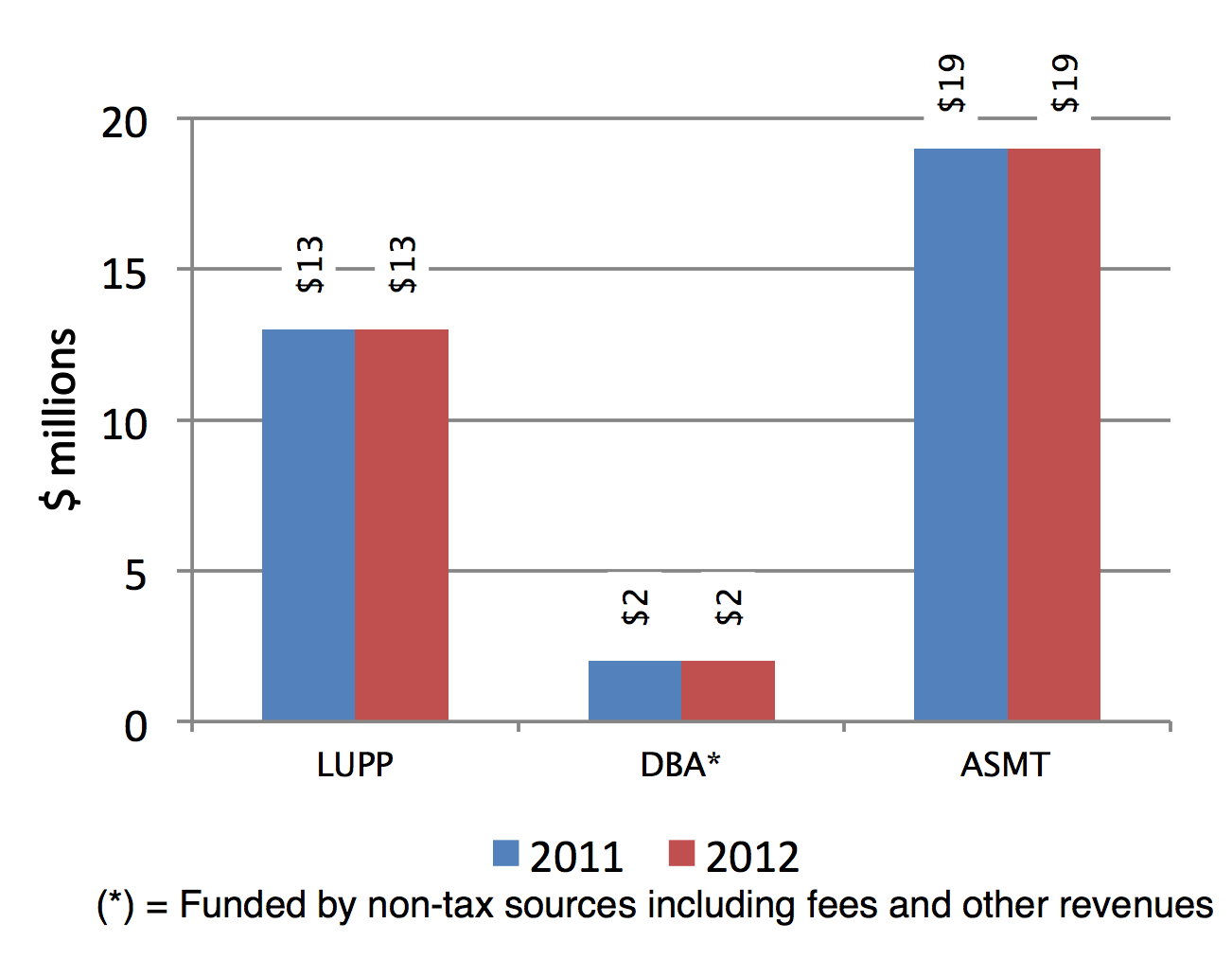 2012–2014 Highlights
Below are some of the actions we are taking to deliver key services in the 2012 to 2014 period. More information is available in our 2012–2014 business plans and budgets.
Develop and implement a department "red tape" reduction initiative that supports the related corporate initiative.
Develop an implementation plan for the consolidation of the business tax with the non-residential property tax.
Continue to improve Calgary's construction site safety through the management and delivery of the Construction Site Safety and Monitoring Program.
Improve the customer experience by engaging with customers, monitoring perceptions of our services, and developing responsive action plans.
Ensure an appropriate inventory of serviced and planned land for community development in accordance with the Municipal Development Plan (MDP).
Improving how we deliver services
The approved 2012–2014 operating budget calls for more efficient ways to deliver services. Over this three-year period, Planning, Development & Assessment will achieve the following productivity gains and efficiencies:
More efficient allocation between different job types will result in a net decrease of six full-time equivalents in 2012 and a total of $471,000 in savings.
Streamlining business processes, use of alternative service delivery and staff deployment models, consistent use of more effective project planning and management tools, and increase use of technology such as online public engagement.
Total budget reductions achieved from productivity savings over three years will be $1.2 million.
Incorporating citizens' input
Examples of how we incorporate citizens' input in the services we provide include:
Continuing to lead implementation of the Municipal Development Plan that directs development of complete communities and strategic intensification.
Re-engineering and simplifying the planning process.
Improving customer experience by engaging with customers, monitoring perceptions of our services and developing responsive action plans.